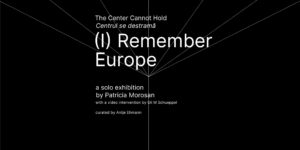 THE CENTER CANNOT HOLD
– an exhibition in two parts curated by Antje Ehmann –
"Throughout history, Europe's borders have changed. Its center has constantly shifted, and this perpetual dislocation can be measured. Berlin-based Romanian artist Patricia Morosan's first solo show in Bucarest entitled '(I) Remember Europe' poetically explores the arbitrary concept of borders. '(I) Remember Europe' is a photographic journey that reveals the center as an existential quest and as a political metaphor. Documenting these centers opens up the discussion on the concept of 'Europe' and the changing construction of the idea of the border.
As a guest artist, filmmaker Uli M Schueppel converses with the work shown in the exhibition through his film 'InsideThePlace', a meditation on the symbolic center of the old and new capital Berlin after the fall of the Wall, a non-space in transformation.
To look at borders from the perspective of the center is at the heart of Morosan and Schueppel's work. The works are a quest for the invisible center, but also for what stays alien to it."
VENUE I – SALONUL DE PROIECTE, Bucharest – November 5 – December 3 2023 | Thu-Sun, 3 pm – 7 pm
VENUE II – Pavilion 32, Goethe-Institut Bucharest- November 4 – December 2 2023 | Thursday & Friday: 4 pm -8 pm; Saturday: 11 am-5 pm.
#patriciamorosan #antjeehmann #ulimschueppel #harunfarocki #biancaoana #goetheinstitutbucharest #noorabuarafeh #cathyleecrane #lawrenceabuhamdan #lamiajoreige #rabihmroué #rawanenassif #johnsmith