Planet Alex
A FILM BY ULI M SCHUEPPEL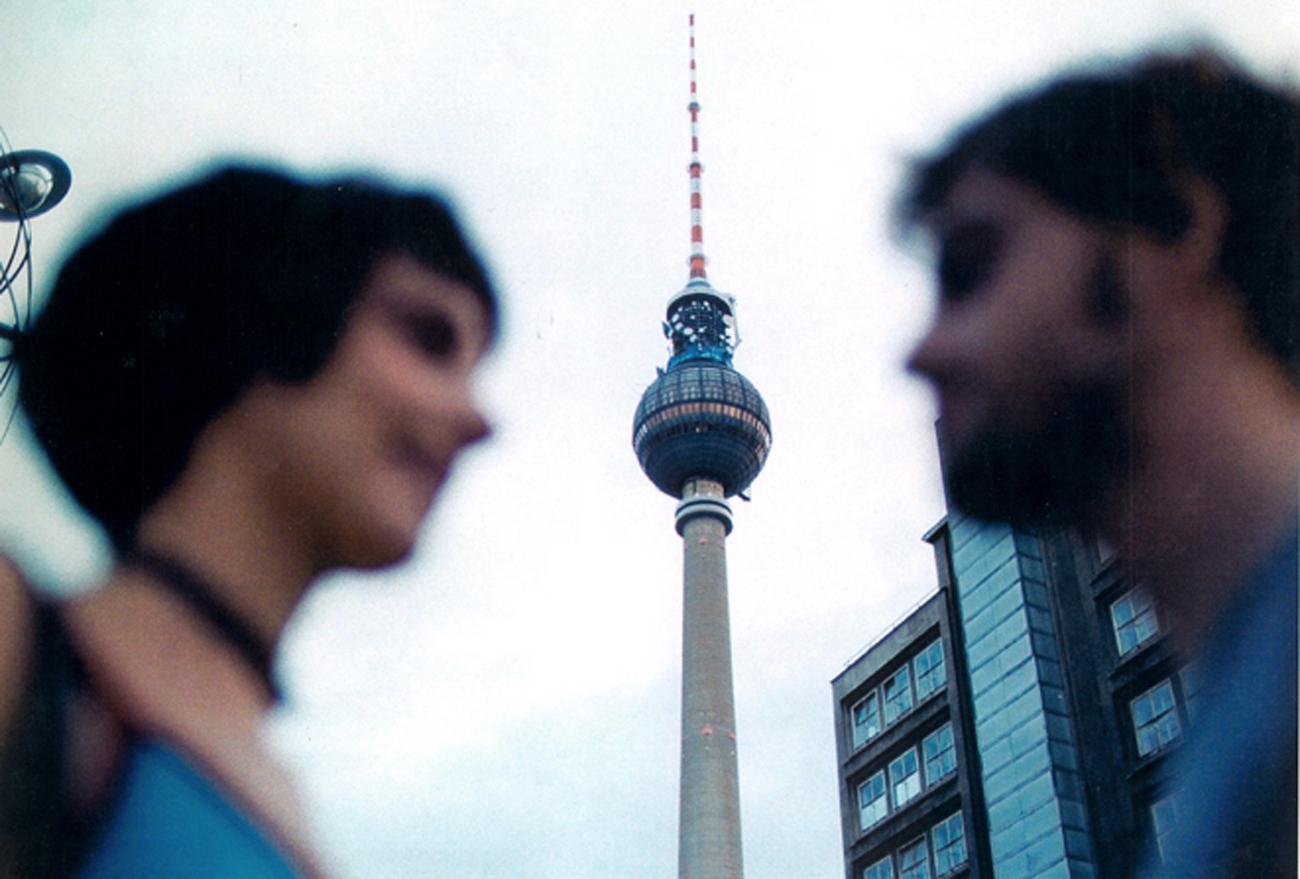 102min, 35mm, color, Dolby Digital SR
GERMAN RREMIERE: Max-Ophüse-Preis, Saarbrücken 2001 (Wettbewerb)
INTERNATIONAL PREMIERE: VPRO "Tiger Awards" Competition at Int. Filmfestival Rotterdam 2001
FESTIVALS: Internationales Russland Festival Sochi (Competition); Sarajevo-Festival (New Currents);Golden Horse-FilmFestival, Taipeh, Taiwan; New Films, Museum of Modern Art, NY; Hirshhorn-Smithsonian, Washington; SeNef-Festival for Digital Media, Seoul,Korea…
"Planet Alex" can be watched directly NOW HERE as Vod-stream!
planet alex from schueppel-films on Vimeo.
"there is an order –
but we don't know it"
Berlin Alexanderplatz 2000 – within 24 hours, various stories rotate between the heights and depths of the square, between the television tower and the subway shafts, between larger and smaller fates, that slowly but surely become entangled.
There is ASAKI (Marusha) – she knows about the planetary catastrophe, that is approaching and foresees the correlating dramatic events. Her mission is to save the city. Or ANNA (Marie Zielcke), who just wanted to spend a weekend in town to finally find out what it feels like to "take off". But she imagined something totally different. Also KATJA (Nadeshda Brennicke) thought it would be easier to bring her carefully planned coup to an end. But before finally leaving Berlin behind, she needs to find out: How did her boyfriend Franz die? Was it really just an accident?
And not only at this point JO (Baki Davrak) enters the game. He is roaming between the stories, can't or doesn't want to remember how it all happened with Franz. And he doesn't understand, why the security employee WALTER (Ben Becker) and the dubious MILAN (Birol Uenel) are after him… All he wants is to take ANNA on a flight to another dimension. But for that the planets aren't too favourable…
Love, murder, fairytale, drugs, madness, humor and a lot of music – planet alex moves playfully through various genres. A sparkling firework of ideas that come together in a greater story. With its driving rhythm, the film sketches the seeming loss of orientation in Berlins city as a pulsating, shimmering network.
WHY WAS IT INTERESTING FOR YOU TO PUT THE ALEXANDERPLATZ IN THE CENTER OF A FILM?
ums: First of all Döblin's "Alexanderplatz" has always been one of my favourite books and one of the essential reasons for me to move to Berlin in the early 80s. Still today the Alexanderplatz is a place in the center of Berlin, where countless stories take place. At the same time it's one of the "non- places" of the modern city – one doesn't especially go there, one just passes by, crosses it. To stand at the Alex and to watch people is like watching through a peep hole – you see merely fragments and you've got to imagine the rest – the whole story.
YOU SHOW US SOME OF THESE STORIES IN "PLANET ALEX" – WHAT CONCEPT STANDS BEHIND THE FILM?
ums:: The camera follows – like a person of its own – this or that character, let's itself go with the flow, is being carried away, guided. And if everything works out, the seemingly totally disconnected moments patch together in the course of the film. The main stories crystallize and only the spectator in his distance is away far enough to see that all of them belong together in some way or the other. Like the planets of a solar system and the ball on top of the TV tower is the sun.
AREN'T YOU AFRAID THAT THIS CONFUSING, COMPLICATED STRUCTURE MIGHT EXPECT TOO MUCH FROM THE AUDIENCE
ums:If you come to the cinema with strictly conventional expectations and permanently desperately search for a red thread, you can get lost. But that's not what's intended. I think, "planet alex" is trying to question the same old ways of reception.
One has to open up to a whole new way of story telling, let the subconscious be part of your reception, immerse in the atmosphere, let yourself be carried away and stop clinging to your logic and the permanent asking "why?" – then, I think, the film becomes a very unusual, thrilling experience, and 100 minutes later you find yourself thinking: "Wow, what was that? Well, I didn't really get all of it – I gotta see it again!"
SOMETIMES THE FILM SEEMS ALMOST DOCUMENTARY – UNDER WHICH CONDITIONS DID YOU SHOOT IT?
ums:Well, at the one hand side, the stories, the characters and the structure are of course extremely fictional and artificial – in no way the approach of creating a picture of the Alexanderplatz very close to reality. On the other side, if you look at the situation we were shooting in, you really could say so.
We had a very small crew working without blocking the set, using close to no extra lighting, camera always hand held, plus it was a small, very unspectacular amateur DV camera… To me this was about creating a kind of "live" situation for the actors and the crew, which at all times let reality shine through. All the places and people that make the Alexanderplatz so characteristic.
Despite these regulations on our minds there was always the intention to make a film for the big screen. I think you can see that in the images.
That's also why in the postproduction we put against the – as you call it – "documentary" approach the unconventional editing, the high-effort music and sound design and most of all the absolutely new technique of digital transfer to film. The look we created for "planet alex" is something between Super 8 and technicolor…
YOU USE THE MOST DIFFERENT DEVICES FROM DOCUMENTARY, FICTION FILM, MUSIC CLIP AND COMMERCIAL – IT IS RATHER UNCOMMON THAT THIS KIND
OF EXPERIMENT WITH UNKNOWN RESULTS GETS FINANCED IN GERMANY…
ums:Well, we did have a very low budget from the Kleines Fernsehspiel at ZDF. To german distributers and film funds the project seemed too risky. That had the avantage that no one interferred, we had a lot of freedom to work differently, to search and try things out and with that of course take a risk. That's why I wanted to surround myself with a very young crew, that is not yet stuck in conventions and "rules" of filmmaking. In the very essential positions of screenplay, camera, editing and production design there were young people, none of whom had realized another long feature film before. I think, watching "panet alex" you sense the passion the crew and the actors felt in making the film we had been missing in German Cinema for so long…
PLANET ALEX – credits
– cast
asaki marusha
anna marie zielcke
katja nadeshda brennicke
jo baki davrak
walter ben becker
harald andreas schmidt
lisa regine zimmermann
milan birol uenel
kovàcs ralf knebel
eric jens kraßnig
tom mario mentrup
barkeeper ralf richter
businessman jochen nickel
traffic light couple meret becker  alex hacke
tourist couple katy beale  mick harvey
interview victim peer martiny
interviewer milena feßmann
dealer on love peppi streich
taxidriver steffen münster
– team
producer milanka comfort
director uli m schueppel
screenplay charlotte wetzel  uli m schueppel
director of photography alexander fischerkoesen
production design donia hamdami
costume jürgen knoll
make up artist elzbieta bumbul
editor elena bromund
filmmusic jacki engelken  ulrik spies
sound christian lutz  frank delle
sound design markus böhm  hanse warns
soundmix robert jäger
visual-postproduktion das werk, münchen
film laboratory arri kopierwerk, münchen
commissioning editor hans kutnewsky  das kleine fernsehspiel
production company de.flex – film  schüppel – comfort gbr
in co-production with z d f
additional music:
"save"  bobo, engelken & spies
"anna"  fetisch & meister
"jet" & "straight way up"  marusha