by Uli M Schueppel
Digital Animation, 50sec, color, dolby SR, Germany 2002;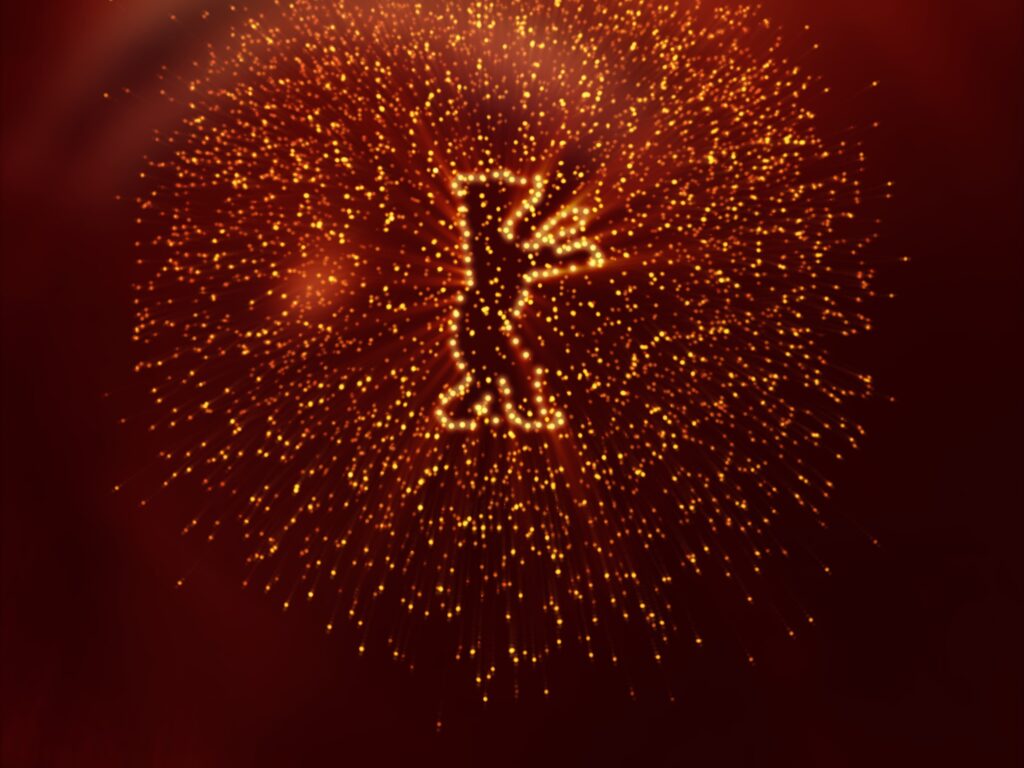 Since 2002 every year 180 film-copies in all formats;
In the sections: Competition, Panorama, Forum, Kinderfilmfest, Perspektive Deutsches Kino
In 2002 a new trailer was created for the Internationale Filmfestspiele Berlin. It is the opener for every film screening during the official programme of all Berlinale sections, the Retrospektive excluded. Director Uli M. Schüppel conceived and created the trailer, while the music was composed by producer/writer team raccoonsatwork, consisting of Xaver Naudascher and Johannes Koeniger. The 50-second computer animation was realized by "das werk berlin". This year's trailer version has been touched up visually and soundwise (new surround mix).
Director Uli M. Schüppel describes the imaginative realm which unfolds in the trailer as follows: "The initially blurred silhouettes of Berlinale Bears come together to form a radiant planetary sphere. On its flight through an imaginary realm of luminous reflections – the festival's genesis -, energy emanates from the sphere like polar lights. The (new) beginning of the Berlinale makes this planet – charged with films, fantasies and creativity – burst into a firework of ideas. The sparks briefly form the constellation of the Berlinale Bear, then drop like a curtain and glitter into the words 'Berlin International Film Festival '".
BERLINALE – TRAILER/OPENER from schueppel-films on Vimeo.
press:
"Magic, poetry and transience
Since there is not much to say yet about the fifty-fifth Berlinale, we will devote ourselves to the film that will probably be seen most often in the next ten days: the trailer. Although it has remained almost unchanged for three years now, it has not yet been given the appreciation it deserves. Conceived and shot by Uli M. Schueppel, it radiates the glamour and depth that one demands of a festival trailer, while at the same time taking poetry and transience into account to an almost unimagined degree. In just a few seconds, it conveys an idea of the essence of film art as such.
In the director's own words: "Silhouettes of initially blurred Berlinale bears come together to form a radiant planetary sphere. As they fly through an imaginary space of light reflections – the genesis of the film festival – polar light-like energies flow out from it. The (re)beginning of the Berlinale makes this planet, charged with films, fantasies and creativity, blossom into a firework of ideas. The sparks briefly form the constellation of the Berlinale Bear, falling down like a curtain, to glitteringly form the lettering "International Film Festival".
Please an extra bear for this beautiful work."
(Harald Peters, TAZ / tageszeitung – 10.2.2005)
Script, Creation and Director: Uli M Schueppel
Music: Xaver Naudascher & Johannes Koeniger
Digital Artist: Manfred Kraemer, Feinwerk-Berlin
Digital Artist (since 2004): Bastian Schreitling (ArriMedia)
Techn. Adviser: Andreas Schellenberg
Storyboard: Angelika Margull
SoundMixing (Dolby): Martin Frühmorgen (Rotor-Film, Babelsberg)
Unit Manager: Dagmar Forelle
Supervision: Dieter Kosslick
Labotary: Studio-Babelsberg
Production: Arri-Media (Frieda Oberlin)
Commissioned by "Internationale Filmfestspiele Berlin"