Elektrokohle – Off Ways
A FILM BY ULI M SCHUEPPEL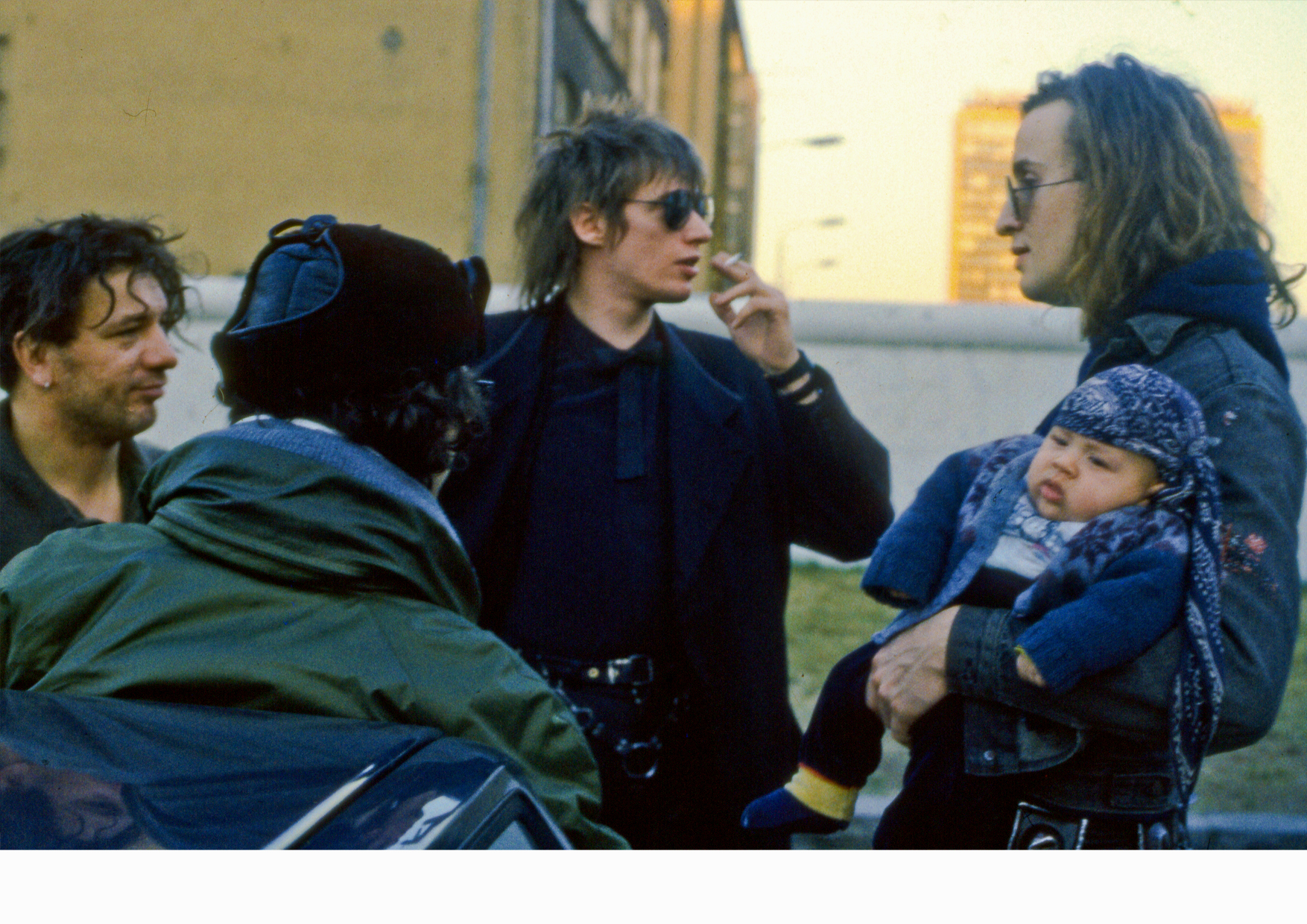 91min; HD-CAM, col, dolby st, Germany 2009
PREMIERE: 59. Int. Film Festival Berlin (Panorama)FESTIVALS: CPH:DOX Int. Documentary Film Festival Kopenhagen 09 (in competition); 50. Thessaloniki Int. Film Festival; 20. Ljubljana Int. Film Festival; 16. European Film Festival Palic; 14. Festival du Cinema Allemand ,Paris; MusiXine – Int Music Film Contest, Finnland, Sensurround-MusicDocFestival, Malmö;
"Elektrokohle – Off Ways" can be watched directly NOW HERE as Vod-stream!
Elektrokohle (Von Wegen) / OFF WAYS from schueppel-films on Vimeo.
At noon on December 21st, 1989 the members of Einstuerzende Neubauten – a band then hailed as a West-German cult export – hit the road in West Berlin for their very first concert in East Berlin, (still-) capital of the GDR. In the film, it is still a long, strange journey from Berlin Kreuzberg to Berlin Lichtenberg, into the Wilhelm Pieck-Hall of the industrial plant VEB Elektrokohle. The Berlin Wall is still standing and there are still tedious border control…
Filmmaker Uli M Schueppel, a friend of the band, accompanied Einstuerzende Neubauten throughout this 'extraordinary' day – extraordinary for the musicians who for the most part had grown up in West Berlin and who previously had never been granted an official permit to perform in the GDR. Extraordinary, because the concert in the evening had been arranged through the mediation of GDR playwright Heiner Mueller, who was a friend of Blixa Bargeld at that time, and who also would introduce the concert with a short speech. The fact, that he appeared backstage with a delegation of French ministers (amongst them then Culture Minister Jack Lang) belongs to the bizarre side-occurrences of that day …
But most notably, this concert is also an extraordinary event for the GDR audience, which had associated so much with the name and concept of Einstuerzende Neubauten, and which was suddenly – facing the band and the West – confronted with their projections.
What happened back then, on that particular day – 'in between'? This film merges the paths of West and East. 20 years later some of the concertgoers trace those paths that led them to the concert hall of the VEB Elektrokohle. Sometimes from around the neighbourhood, sometimes from Berlin's surroundings, or even from barracks 300km away – retrospectively they reflect a road, which on the one hand led them to this once-in-a-lifetime pop event, and on the other to the German reunification.
Out of these various Western/Eastern routes to the concert emerges a temporal mosaic of Berlin on this 'extraordinary' day – a journey back to a German 'in between-time'.
Subculture falls together with big history. This cinematic montage creates a crystalline feeling of the day." Tageszeitung
"Schueppel's film tells more about the fall of the wall, then all achive footage TV-channels can edit together." Die Welt
"Utterly divine. Thanks for this!" Saechsische Zeitung
"A powerful encounter, that still today senses the energy of the time." Sueddeutsche Zeitung
"A very moving voyage into Germany's in-between time." Ostsee Zeitung
"A little event becomes an historical moment!" epd-film
"The audience reacted enthusiastic!" Ostsee Zeitung
Credits
with
Blixa Bargeld
Alexander Hacke
FM Einheit
Mark Chung
Andrew Unruh

Juliane Behnfeldt
Ingo Brunner
Anja Jauert
Ronald Galenza
Gozamba
Alexander Kunze
Matthias Loeper
Claus Löser
Robert Mießner
Mirko Naydowski
Frank Radermacher
Robert Richter
Alexander Pehlemann
Heiko Siebert
Andreas Stobernack
Andreas Wendt
Renate Ziemer
and
Heiner Müller
Jack Lang
u.v.a.
Script & Director
Uli M Schueppel
Camera
Cornelius Plache Uli M Schueppel
Editing
Ernst Carias
Music
Einstürzende Neubauten
(Bargeld, Chung, Einheit, Hacke, Unruh)
remixed von
Andrew Unruh

Sound
Martin Frühmorgen
Production Manager
Sophia Weyringer
Line Producer
Birgit Mehler
Production: schueppel – films
in Co-production with RBB and Medienboard Berlin-Brandenburg