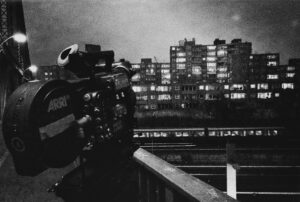 (13.02.18) We are very happy to announce that the shooting of the new film "THE BREATH (Der Atem)" by Uli M Schueppel is completed in feb11 – after 32 night-shootings (in winter!)….
We want to deeply thank everybody who was involved&helped to get this idea on (16mm-) film!
THE BREATH will be the 3rd part of Uli M Schueppel's "Chants-Trilogy" – after "THE PLACE" (97) and "THE DAY"(07). This film is a coproduction of ARTE (La Lucarne) and 'Schueppel-Films', founded by Medienboard Berlin-Brandenburg.
Later this year more news about this project (maybe in autumn?).