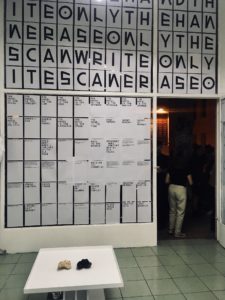 STUDIO STONE AGE
a (video-)installation by Joshua Olsthoorn
to which Uli M Schueppel had the pleasure to contribute.
Studio Stone Age is the spatialization of a film project by Joshua Olsthoorn. The not yet released experimental film 'Stone Age' is an attempt to reconsider and reflect on how contemporary technology has shaped the very ideas of progress and sustainability in the anthropocene era. The film is built upon non-stories of characters in search of meanings in a confused time and environment. These characters played the double roles of actor and auteur and participated actively in the making of the film, turning it into a semi-improvised collaborative work. The exhibition derived from the film is showcasing fragments of the film in relation with artworks by its participants, thus turning itself into an open end collective show, whose editing process has to be operated by the visitors and whose final cut belongs to them only.
STONE AGE (installation version 2022)
16' LOOP, 3x SCREENS 40"
With: Resi Bender (Theresa Hoskins), Niki Danai Chania , Kostas Petrou, Kostas Vlachakis, Julia Voriadaki, Florent Frizet, Tristan Bera, Odysseas Koulas-Simos, Céline Perrier, Stéphane Charpentier, Hannes Livers Gutberlet, Ella Villaumié, Christina Reinhardt, Matthieu Prat & Uli M Schueppel
Sound: Stelios Sideris, Patricia Morosan, Owen Hoskins
Soundtrack: Ioannis Savvaidis
Production: TYPICAL ORGANIZATION
A film project by Joshua Olsthoorn
Opening 13.10.2022 (18:00-22:00)
On till 21.10.22 (18:00-21:00)
Zaimi 24, 106 83 Athens/Exarchia