TRANZANIA.LIVING.ROOM.
A FILM BY ULI M SCHUEPPEL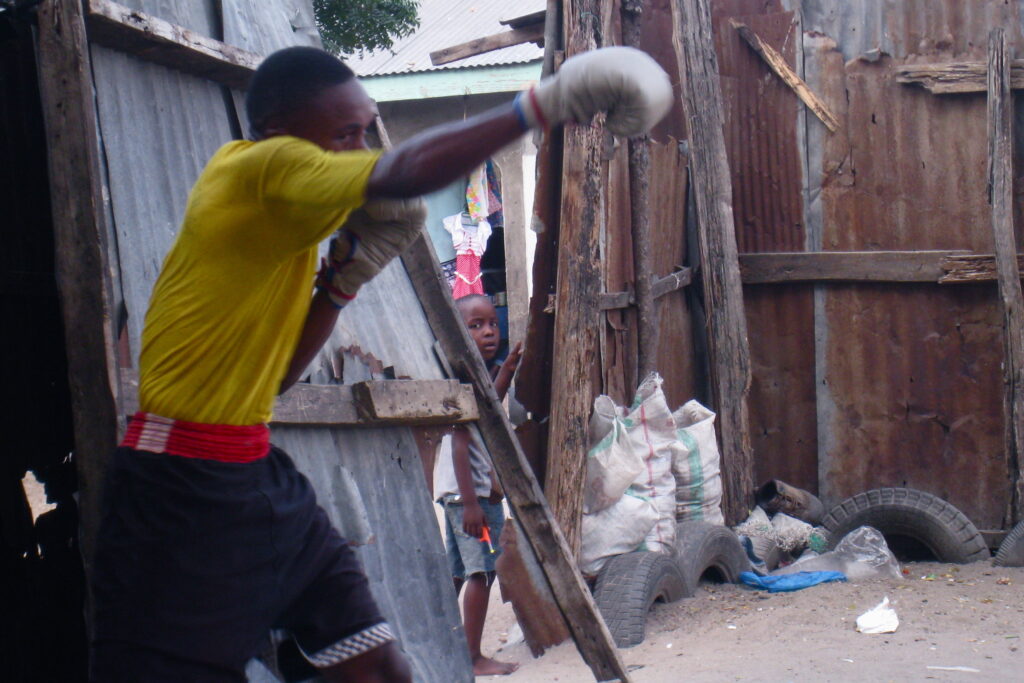 .
.
A film by Uli M Schueppel
75min, col, DigiBeta, Deutschland 2010
Premiere: 39. Int. Film Festival Rotterdam ,2010
Festivaleinladung: 33. Göteborg Int. Film Festival; 21. Festival Cinema Africano, Milano/Italy; 13. Zanzibar Int. Film Festival, Tanzania; 7. Amakula Kampala Int. Film Festival, Uganda; Greek Cinemathek, Athens; O.F.N.I.-Festival, Poitiers; Centraltheater Schauspiel, Leipzig (German-Premiere in Cooperation with Int.DokFilmfestival Leipzig)
"tranzania.living.room." can be watched directly as Vod-Stream!
TRANZANIA.LIVING.ROOM. from schueppel-films on Vimeo.
The documentary essay film "tranzania. living. room" by Uli M.Schueppel invites the viewer on an atmospheric journey through interspaces of the imagination. The movie flows from the contemplations of a German child into the center of Dar-es-Salaam during the fall of 2009. In this process it tells the distance, the ditch, the space in between – but it also gives a view to the other side. A projection – from both sides. The opening up of the interspaces give way to another view, that is not so much on Tanzania or Africa, but a view that is coming from the inside.
As a kid in his German living room Schueppel got told stories about Tanzania. In the movie he asks people in Tanzania to describe their idea of this living room. On questioning these imaginary Tanzanian images and atmospheres of his childhood, he portrays in a parallel process people from Tanzania in their daily life, during their work or leisure, while in return they describe their imaginary pictures about a living room in Germany.
In "tranzania. living. room" Schueppel layers two oppositional topographies on top of each other. While the persons portrayed act in a public space, they open their private spaces describing the room in their imaginary. In this way rooms ("living rooms") will be created in the mind of the viewers, which contact, overlap, or displace into each other.
with
pianist
Omar Ally
car-wash
Emma Alex
dancer
Masha Salehe Hnge
boxer
Maiko Patrick
barber
Joseph Moshi
cigarette-seller
Majid Ngolilo
worshipper
Hellen Joseph
dala-dala driver
Kondu Suleiman
fishseller
Raphael Msuya
student
Tukiko Agack Isano
video-rental
Haiba Ali Suleiman
massai
Telesia Losoki
preachers
Rev. Edward S.Mkole
Herbet Daudi
Evangelistc Assemblies of God, Tanzania
dance group
Simba Theatre Art
James A.Mbunju
narrator
Cosmo Schueppel
music
Huw Roberts / Otto Totland (Nest)
scenario, directing, camera
Uli M Schueppel
editing
Ernst Carias
sound, mixing
Martin Fruehmorgen
mixing-out
Ansgar Frerich
DieBasis/Berlin
post produktion management
Wolf Bosse
Matthias Knöfler
Pictorion Das Werk/Berlin
grading
Nico Hauter
translation
Mnyaka Sururu Mboro
line producer
Link Reuben
production assistante
Meg Muigai
production management
Susanne Mann
zischlermann filmproduktion
production coordinator IFFR
Inge de Leeuw
executive producer
Gertjan Zuilhof
International Filmfestival Rotterdam
goethe institut
Ulrike Schwerdtfeger
medienboard Berlin-Brandenburg
Teresa Hoefert de Turegano
special thanks to
Dr.Julia Eisele, Ndame Boxing Club/Jafari J. Ndame, Bastian Schreitling, Nathan Vanderpool, New Africa Hotel, Screenshot, Foto Braune, Andec-Film, Rechtsanwaltskanzlei Bantzer-Nauermann, Barbara Schmid-Heidenhain, Mick Harvey, David McGinnis/Mute Song, Johannes Beck/Minus, Frieda Oberlin and Julia Basler/German Films for support
music
lodge
performed by Nest (Otto A. Totland/Huw Roberts) published by 5MM Publishing
© Serein Ltd
marefjellet
performed by Nest (Otto A. Totland/Huw Roberts) published by 5MM Publishing
©Serein Ltd
Cad Goddeeau
performed by Nest (Otto A. Totland/Huw Roberts) published by 5MM Publishing
© Serein Ltd
Far from Land
performed by Nest (Otto A. Totland/Huw Roberts) published by 5MM Publishing
© Serein Ltd
Far from me
performed by Omar Alley (Cave, Bargeld, Casey, Wydler, Ellis) licensed by Mute Song Ltd
production
schueppel-films
supported by
Medienboard Berlin-Brandenburg Goethe-Institut IFF Rotterdam German-Films
© schueppel-films 2010