BerlinSong
Film by Uli M Schueppel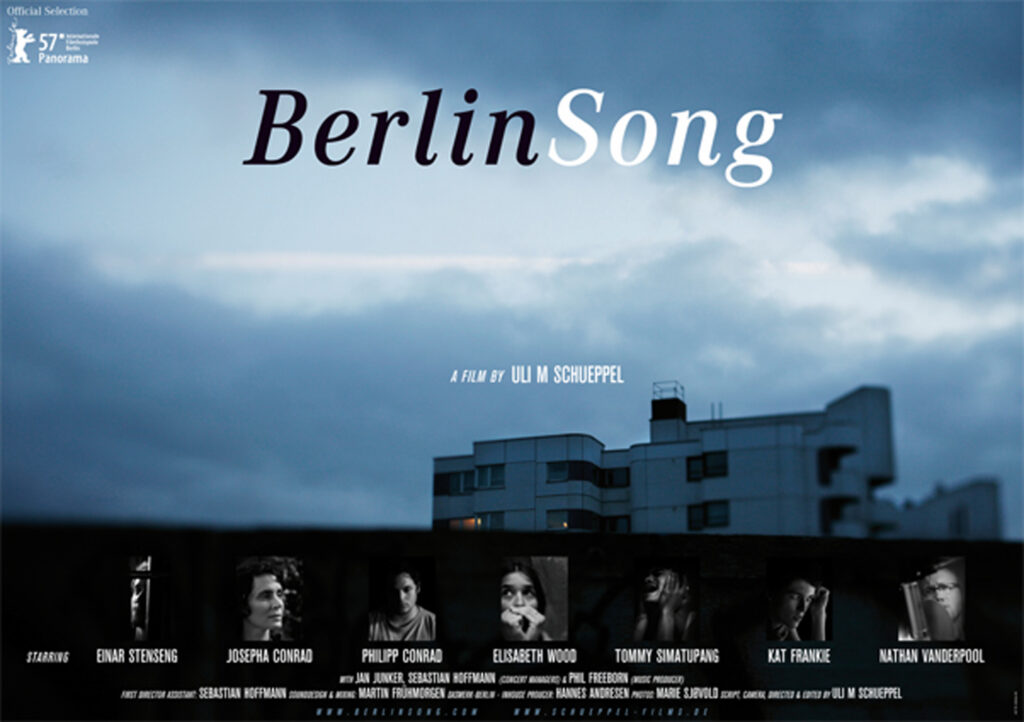 BerlinSong
Digi-Beta – 84min – s/w – Dolby SR – Deutschland 2007
PREMIERE: 57. Int. Film Festival Berlin (Panorama)
FESTIVALS: 22nd Singapore Int. Film Festival 09; Reykjavik Int. Film Festival 08; MusiXine–Finland 2008 UNERHÖRT Filmfest Hamburg 08; Music Doc Festival Malmö 08,
"BerlinSong" can be watched directly NOW HERE as VOD-sream!
BERLINSONG from schueppel-films on Vimeo.
BerlinSong is a story about six musicians from Berlin's vibrant new-folk underground music scene. They came to Berlin from the US, Norway, the Netherlands, England and Australia and somehow made the city their home. Filmmaker Uli M Schueppel made the artists show hiim what their very own place in Berlin is and asked each of them to write a song about the city. These reflections and projections on Berlin (or specifically Kreuzberg) merge with the writing process of the songs, recording in the studio and the preparation for a concert with all artists in the illegal club "West Germany".
BerlinSong is a poetic portrait of these musicians and at the same time, an atmospheric journey into the myth that is Berlin.
"Young people are once again looking for alternatives in these films. That's also apparent in BerlinSong, a documentary by Uli M. Schueppel. People come to Berlin from around the world, partially for the same reasons as before, but these are different people than during the 1980s. Not necessarily loud and colourful, rather friendly and pensive. But they are also looking for alternatives to the pressure to consume and to status symbols. These elements are stronger this year: an alternative culture, once again occupied politically in conscious opposition to that which youth culture appears to consist of today: to be an individualist, but follow the mass." – Wieland Speck, director Berlinale Panorama
---
starring
Tomi Simatupang
Einar Stenseng
Crazy for Jane
Kat Frankie
Nathan Vanderpoo
Elisabeth Wood
also
Jan Junker
Sebastian Hoffmann
(Concert Manager)
Phil Freeborn)
(Music Producer)
Script, Camera, Directed & Edited
by
Uli M Schueppel
First Director Assistant
Sebastian Hoffmann
Sounddesign & Mixing
Martin Frühmorgen
Additional Cameras
Cornelius Plache
Peppi Streich
Pebba Meissner
DasWerk – Inhouse Producer
Hannes Andresen
Photos:
Marie Sjovold
Systems & Support
Philip Conrad
A
schueppel-films
Production